Warbird and Sport Aviation Takes Off from Mitchel Field
Get Ready for the Eighth Annual RC Aviation Weekend
Mar 7, 2012, 7:54 a.m.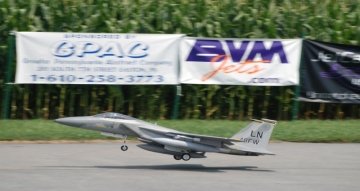 A
Warbird
launches from Mitchell Field
Warbird and Sport Aviation Takes Off from Mitchel Field
The Academy of Model Aeronautics (AMA) in conjunction with the Cradle of Aviation Museum and Radio Control (RC) airplane clubs from all over the Northeast are happy to announce the Eighth Annual RC Aviation Weekend on Saturday, March 31 and Sunday April 1, 2012 from 9 a.m. to 5 p.m. at the museum.
Pilots from flying clubs all over the Northeast will display more than 100 remote control aircraft with their full-sized counterparts. Exhibited aircrafts exemplify those flown in both world wars, the Korean War and the Vietnam War. Current military and sport aircrafts will be on display as well.
Hands-on flying events will be held outside at the former site of Mitchel Airfield throughout the event, weather permitting. Inside the museum there will be electric aircraft demonstrations and RC flight simulators, giving all visitors the opportunity to pilot an aircraft.
There will be numerous demonstrations of today's state of the art digital controls, electric, gas, turbine power plants and "Almost Ready to Fly (ARF)" airplanes  which LI Cobras President Bob Grassick describes as, " … smaller, lighter, and much more efficient while less expensive than ever… "  Numerous examples from miniature to giant in scale will be displayed.  
New for 2012, vendors will be displaying and offering a wide variety of items from components and tools to radios and airplanes for sale. Vendors and pilots will be on hand to answer questions and provide information about entering the exciting world of RC aviation. 
These exhibits and events are supplemented by the Cradle of Aviation's permanent collection: more than 60 restored full size planes, space craft, artifacts, hands on displays and the incomparable IMAX Theatre. Museum Curator Josh Spoff describes the Cradle as the "…premier aviation venue of its kind in the Northeast."
According to Mr. Grassick, "…the primary objective of the our flying clubs, the Cradle of Aviation Museum and the AMA is to generate interest and exposure to this hobby and demonstrate the strong connection with, and heritage to, full size military and sport aviation, both of which LI, the Cradle Museum and Mitchel Field are such an integral part." Many of the flyers in attendance are "full size" pilots and designers or engineers in the aviation category.
Because of the historically high costs, this has been a hobby in which adults primarily participate. But the coming of new high technology computer-aided systems, inexpensive simplified kits and ARFs have significantly reduced the price of flying. We encourage adults and children of all ages to join us.
Directions can be found by contacting the Cradle of Aviation Museum at 516-572-4111 or via their website: www.cradleofaviation.org.